The Nigeria Police Force says it has arrested two policemen and a civilian for allegedly harassing a 25-year-old woman sexually in a video that went viral on Wednesday.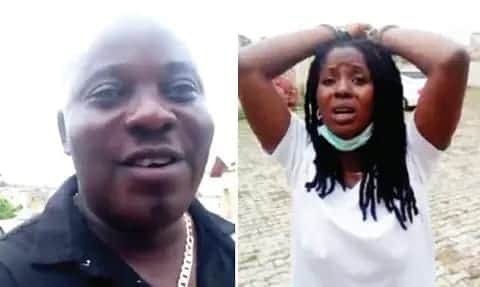 The arrested policemen were identified as ASP Tijani Olatunji and Inspector Gboyega Oyeniyi.
The police said in a series of tweets that the policemen who are originally attached to the Area A Police Command in Lagos, travelled to Ibadan for a legal operation when the incident occurred.
According to the Force, two of the officers were being detained at the State Criminal Investigation Department, Yaba, while two others had yet to be arrested.
The tweets read, "Following investigations into the dehumanising treatment of a female citizen as shown in a viral video on Wednesday, 22nd July 2020, the Nigeria Police Force has identified three police officers.
"The Inspector-General of Police has ordered discreet investigations into the circumstances surrounding the dehumanising treatment meted out to the female citizen in the viral video."
"One civilian accomplice who participated in the unprofessional act; two suspects, ASP Tijani Olatunji and Inspector Gboyega Oyeniyi have been arrested for their role in the discreditable conduct and incivility to a member of the public."
The police said all those found culpable would face discipline.
In the undated amateur video which is about six minutes long, a policeman who identified himself as 'Wyclef' along with his colleagues, interrogate a young lady named Towobola.
Towobola was arrested in Ibadan when policemen raided a building where a suspected kidnapper was living.
The policemen, after taking the kidnap suspect away, faced Towobola, handcuffed her and accused her of sleeping with the alleged kidnapper.