Some Lagos residents have given some of their rather shocking accounts of how kidnappers abduct victims on Lagos roads.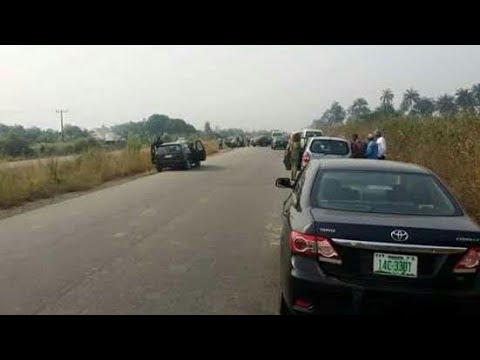 Residents of Lagos have one more thing to be anxious about in the big city, with a new tact being adopted by kidnappers to get their hapless hostages on the city's roads.
The new tact is simple yet effective: the criminals, dressed and acting responsibly in their vehicles, pull over when they spot a target and, asking for an address, they pull out a gun when the target is distracted, ordering the victim to get into the vehicle. As soon as the target complies they drive off with a fresh hostage.
The kidnappers would then take their victims to an enclave where they would demand ransom for their release.
Onochieze Nwakanma, a Lagos resident, is one of such targets, who is now thankful that he was able to escape from his would-be abductors.
He told Daily Sun about his experience.

"I was on my way home after closing from my shop at the Egbeda area. As I was trekking home, a car stopped beside me and the driver who spoke English asked for an address, and as I was trying to respond, one of the occupants pointed a gun at me and ordered me to go inside the vehicle or risk his wrath. As I was trying to join them in the car, my instinct warned me not to enter the vehicle, so I quickly took to my heels. I made up my mind to even die where people would pick my body than for them to take me to where I would be used for rituals. It was when I narrated my ordeal in the church that I was told that a syndicate that abducts victims on the road is on the prowl in Lagos."
A different target, Toriola Ibrahim (not his real name), was however not as lucky as Onochieze, as he was successfully abducted on October 1, with a ransom for his release paid by his family .
Ibrahim gave Daily Sun a harrowing account of what happened to him that day:
"On October 1, 2019, to be precise, on Independence Day, I was abducted at gun point in broad day light. I am a desktop publisher. I left my house about 1 pm to Ijaiye Ojokoro area of Ojokoro Local Council Development Area of Lagos, to print documents for my clients without any inkling that my journey would end in the den of kidnappers. Just as I alighted from the bus at about 3 pm, I was accosted by a young boy who briskly raised his cloth to show me a gun hanging in his trousers, and warned me to enter the Toyota Camry car. Out fear that he may fire at me, I quickly entered the car.

"As I was being driven away, my abductors ordered me to lie down in the car and they were beating, punching and slapping and hitting me anyhow. They also dispossessed me of my two phones, bag containing my church gowns and a wallet containing some money. I thought they were armed robbers until we arrived at a building I believed to be their hideout. As we arrived, some of their gang members were on ground ready to welcome me with slaps. I was ordered to sit on a soakaway under heavy down pour. At the hideout, Indian hemp was being smoked like no man's business. One of my abductors collected my Android phone and recharged it. After recharging my phone, they used it to contact my mum and they lied to her that they were calling from Ikotun Police Station. They claimed that I was arrested for being involved in gay practices, claiming that the landlord association handed me over to them to be taken to the police station.

"They said that they needed money to secure my release, otherwise I would be taken to the station. My mum responded that her son may have been mistaken for another person and told the callers that that she'd prefer to come to the station.

"Immediately my mum told them that she was coming to the station, they started beating me some more. This time I started bleeding from mouth, nose and ears. At a point, I started pleading with them to let me call a brother and get them some money, just to secure my freedom. With my phone on conference mode, I called my brother at home to take the money in my room and send it immediately to the account number the bandits provided. At the end, my brother sent N11,000, which made them angry.

"My mum called and she was threatened to pay N100,000 or I would be killed. When my mother heard that the unexpected may happen to me, she quickly sent another N40,0000 and pleaded with them to let me go as she had no money to part again. The money was also sent to the same account into which my brother paid the N11,000. After paying the money, they took me back to the same place that I was abducted – Ijaiye Ojokoro near where I was kidnapped. With my swollen face, we reported to the Ojokoro police station.

"After my statement, the policemen on duty said they were taking me to the anti-kidnapping unit, but demanded N50,000 for transportation. We had no money to offer. As the policemen refused to do anything, we contacted a senior police officer who they addressed as the Divisional Police Officer who advised us to write an undertaking that we would not come back to the station."
***